The most actual tips for personal care, the most simple and tasty recipes

Global rating average: 5.0 out of 5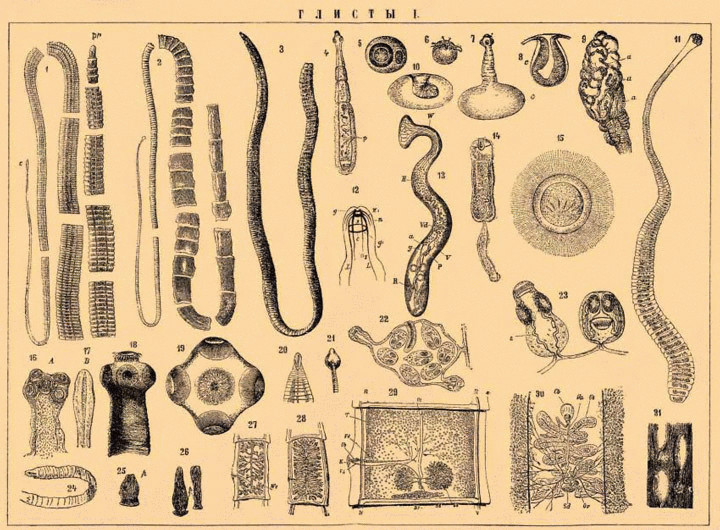 Once in the intestines of one person, worms gathered at a political symposium.
First came the ascaris. She told the high assembly that progress could not be reversed, and therefore those dark times had passed when they fought cruelly and inhumanly against the worms. And you need to decisively and finally end the discrimination of the worms in the body. For globalization processes require the development of tolerance.
Opistorchis enthusiastically applauded and chanted equality of rights with liver cells.
Then the word took a wide ribbon. He gave a history report. Say, there used to be a golden time when nobody knew about worms, it was not something to fight with them. But then came the dark and dark time, when the worms were found and began to treacherously poison and remove.
However, the development does not stand still. And now no one dares to cast doubt on the equality of worms on food and the freedom of their self-determination in the body.To oppress worms with medical preparations and other obscurantism is not allowed to anyone. And what is needed by all measures to eradicate worms. Since the worms are equal to all human organs. And that is not worth to stand in the way of progress.
The block of microscopic parasites introduced a proposal to declare the chauvinistic immune system, and human organisms that do not have worms, backward and not progressive. The proposal was unanimously supported by the high assembly.
Liver flukes in the block with opistorchs were in favor of giving the worms blood supply quota according to their needs. And equate rights to the brain.
After that, the word took the bullish tapeworm. He talked about the fact that chauvinism in relation to worms is completely unacceptable, because it violates the agreement in the body and leads to consequences. He proposed to issue a law prohibiting non-politically correct chauvinistic expressions.
From now on, instead of the word "worm", the term "autonomous human organ" should be used, and instead of the word "parasite" one should say "symbiotic of the second kind". The idea of ​​political correctness was greeted with applause, turning into a standing ovation.
Everyone was very happy and satisfied with the established liberal order and it was a worm parade. But then suddenly all those gathered felt for some reason it was getting cold. And oxygen with food was very little. And they even decided to stage a protest against such blatant discrimination.
However, they did not have time.
The man is dead. Not managed his body with parasites. Not sdjuzhil load. That is not in his gut no food, no conditions. Together with him and his worms.
Moral: If worms are wound up in humanity, then anthelmintic is urgently needed, and not tolerance and the fight against worms and chauvinism.
Related news
Parable about tolerance image, picture, imagery