Territory of conscious motherhood. With his joys and difficulties, his awareness and life's ...

Global rating average: 5.0 out of 5
About non-male education of men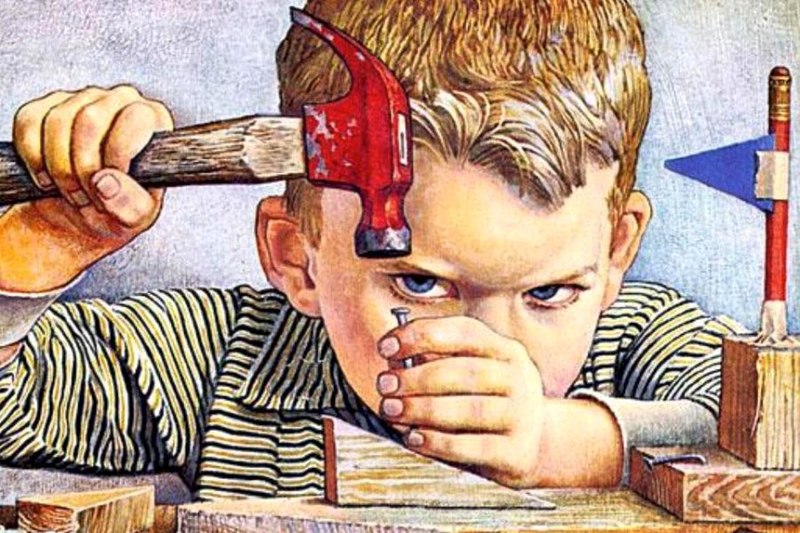 Every morning, seeing my son to school, I observe the same picture. My neighbor, frail as a Tari bird, drags on both shoulders a backpack to her son, a second-grader, whose bright forelock only barely reaches her elegant, but durable shoulder. As we approach the school, these images are becoming more common.And now, we are already dissolving in the stream of mothers and grandmothers, selflessly draining their boys' school supplies.
And ten minutes later, after entrusting their children to the cares of the teachers, these same mothers get stuck at the nearest coffee point so that they can sweetly drag on a cigarette and complain to each other that their husbands are imperfect, in particular, and unskilledness of men in general.After all, each of us so want to feel like a woman, and so that the Man was next ...
Moms, cute! Yes, indeed, we have them - these men! They are formed from our rosy cheeky boys every day, under our vigilant supervision.Every day, by half a shash, our children are removed from the "boy" point, moving to the "man" point. But, why next to our little men, we so easily forget that we ourselves are not only Moms, but also Women? PWhy do we allow them to see and accept, as truth, this pernicious image of a woman-horse - infinitely resilient and patronizing? An image that, like rust, exhausts the natural laws of the relationship between a man and a woman. That which ultimately does not make happy neither us nor them.
Our boys are already being formed in an environment that is rather destructive in relation to male nature. It is believed that we live in the male world, which in everything imposes on us - women their own rules of the game. But over the past few years, a hundred representatives of the weaker sex have so successfully fought for their rights, that today many men are already lying on their shoulder blades. And from an early age.
Judge for yourself.In former times, boys at the age of seven experienced the initiating transition from the mother skirt to the male element.. From this point on, men became mentors for them. In the aristocratic environment at this age, a tutor was invited to the boyin families it was simpler - the son began to help his father in his economic affairs, or he went on as an apprentice to learn the male craft.
What happensthese days? In raising our boys, female influence has become almost limitless.Starting from kindergarten and continuing in school, absolute power over future men belongs to women, the great and all-powerful. Male educators are worthy of being listed in the Red Book, and it is very unlikely that the situation in the education system will change dramatically in the coming years.
It seems to me that to keep the masculine in such adverse conditions is already a considerable achievement for the novice man.
The theme of "correct" education of boys recently at the peak of popularity. Labkovsky, Nagiyev, and others like them, on the one hand, barricades reproach women for being inhuman and place the burden of absolute responsibility on our shoulders for educating future men. Women psychologists, educators and just mothers on the other hand are beating into the blood with postulates from the region: "you can't grow a man without a man", "what an example is this and the result" ... And I was always closer to the last army.
But every morning, on my way to school, I think that the guys from that front are still somehow right. Yes, we are mothers, not omnipotent. And we will not be able to replace what the healthy fatherly upbringing lays in in shaping the future of manBut we can at least DO NOT interfere to manifest itself to what is already laid in our boys by nature.Do not confuse their nascent masculinity with their hyper-care and excessive care in cases where it has already lost its relevance. Allow them to test their strength and to withstand the loads available to them, to make mistakes and fill bruises.
No, you do not think, I love my son very much. And, perhaps, precisely because of this love, I often have to catch my caring impulses by the tail and hide it deeper into my heart. To include at times not only mother, but also a woman. I do not really understand, rather, I feel that it is in THIS, for example, the moment I need to remember that it is hard for me. Because it is with this load that he can handle it.Or strong enough to bring your backpack to school and back. To share with me shopping from the supermarket. Not because I can not bring them myself. And just because I'm a woman.
And women gravity can not be worn! And the point.
I often ask the Universe, which gave me the happy opportunity to be a mother to my son, to award me with sufficient restraint,in order not to lay a straw for him where there should not be soft, not to be responsible for him where he is already able to answer independently, and not to put his shoulder where he does not ask.I do not know what the results of my efforts will be after 15 years. And all this will not guarantee a happy life for my son. But I am sure, it will help him to become at least one step closer to his nature, and therefore to harmony with himself.
I very much hope that if each of us will at least sometimes remember that a son is not only a child, but also a man, take into account his natural features and needs, different from ours — women's, perhaps the time will come when women it will happen a little less to complain about the immateriality of their men. Indeed, no matter how pathetic it may sound, but it is we who together with our children create a society of the future.
Related news
About non-male education of men image, picture, imagery